Increased performance with Perfekta of Sweden

With PERFEKTA of Sweden fluidbelts you can improve your performance. Your running will be more efficient as you maintain a proper fluid balance in marathons and you may get better results by using our fluidbelts, since you can "drink what you want, when you want". No stops will disrupt your rhythm and slow down your pace.
PERFEKTA fluidbelts are easy to use. With a strong Velcro fastener the elastic waistband can be adjusted to fit perfectly. The 16 cl bottles are flat and bent to follow the shape of your body. Some models have reflectors and a big pocket for keys, money and other small items. You can run and drink different fluids at the same time.
Our fluidbelt models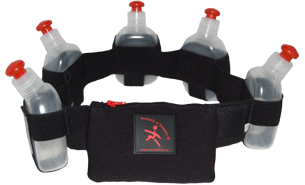 All our fluid belts are made with elastic velcro which will guarantee that the belt will sit tight on your body. Thanks to that you will hardly even know you are wearing it.
Our fluid belts come in several models and sizes. The models with 4, 5 and 8 bottles come in size S to XL. The models with 5 and 8 bottles have a pocket and reflexes.
Size guide for our belts
| | | |
| --- | --- | --- |
| Size | From | To |
| Small | 65cm | 75cm |
| Medium | 75cm | 85cm |
| Large | 85cm | 95cm |
| Extra large | 95cm | 105cm |
Our fluid belts with 3, 4, 5 and 8 bottles come i four sizes from S to XL. Use the table above to see which size fits your waist.
Our belt model with 3 bottles comes in just one size. But that size fits all with a waist measurement from 65 to 105 cm.